What is the truth behind China's optimistic economic data?
Continued numbers are published showing that the Chinese economy is starting to recover after a long "sick".
According to statistics, China achieved the growth rate of 4.9% in the third quarter. China's main growth drivers come from three areas: exports, industrial production, and fixed asset investment.
International Monetary Fund expert Jonathan Ostry said China has exported very well in the past few months because it has produced and sold items that are in extremely high demand around the world. Specifically, China's third quarter exports increased by more than 10% over the same period last year. While imports increased by more than 4%.
Industrial production in China increased sharply in the third quarter
As for industrial production, factories in this country started to operate strongly again after many months of cooling off. Real estate investment is standing firm at double-digit growth, leading to excitement in industries like construction or steel production.
"The global steel production industry is on a decline. This is an opportunity for China to increase productivity. I expect China to account for 60% of global steel production by the end of the year," said President of the Institute of Planning and Research. Chinese metallurgy Li Xinchuang said.
And finally, investment in fixed assets in China, such as infrastructure, machinery and equipment, rose 0.8% – the first increase in the first nine months of the year. The unemployment rate in urban areas also decreased significantly.
Weakness
However, the billion-people economy still has a weak point that has not yet recovered. That is consumption, when in the first 9 months of the year, consumption in China is still down 7.2%.
"China is recovering its economy at a very rapid rate after the epidemic, in the areas of export and industrial production. But the last piece of missing is consumption and retail. Consumer needs of the people. still sluggish and not growing as expected, especially people living in tier 2, 3 and 4 cities – they have lower incomes, "said Sara Hsu, CEO of China Rising Capital Forecasts.
This means that the impressive recovery of the Chinese economy in recent years has not recorded too much contribution from the consumer sector.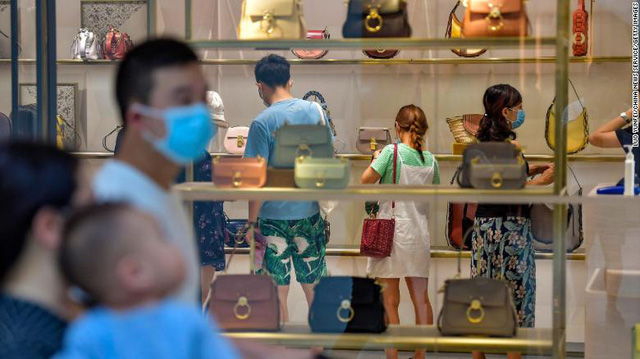 Despite the decline, Chinese consumption still shows positive signs
There were concerns that the recovery of the Chinese economy would be unsustainable when consumption was still lagging behind in comparison to other sectors.
However, that concern is now somewhat calmed, as consumer spending in China is starting to accelerate again as people have the means to spend and are ready to spend when the epidemic has been checked. control and income improved. The acceleration of consumption has made the momentum of China's economic recovery more balanced and sustainable.
Accordingly, consumer spending, though still decreased by 7.2% in the first 9 months of the year, but has grown in the last two months with an increase of 3.3% in September. consumption rose 0.9% and was the first quarter of growth.
Consumer spending contributed 1.7 percentage points, or more than one third, of the 4.9% growth in the third quarter.
During the National Day holiday, e-commerce giant Suning said that the number of orders increased 58% over the same period. In which, orders for home appliances, decorations and mobile phones increased by 157%.
Thanks to good disease control and improved demand when the economy recovers, people have the condition to spend and are ready to spend again.
"Now life is almost normal. Just wear a mask to go out to shop or eat, no worries. I still spend like last year," Beijing City residents said. know.
According to Professor Liu Anh – People's University of China, the most important thing today is that the people have a liberation of thought. Although there are still cases imported from abroad, but people think that the epidemic is over and can be assured of going out to spend. This will continue to free up the demand for consumption, food and other services in the coming time.
The scale of Chinese consumption in 2019 is up to 5.800 billion USD, ranking 2nd in the world after the US. Thanks to a sharp increase in consumption recently, China is expected to become the largest consumer market in the world this year.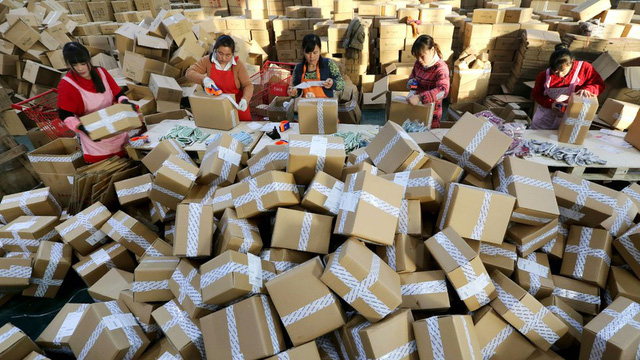 The major e-commerce platforms in the country are stepping up preparations for the world's biggest shopping spree to take place on Singles Day 11/11
Consumption, investment and exports are often referred to as the three-horse vehicle that promotes economic growth. The recent acceleration in consumption has made the recovery momentum of the Chinese economy more balanced and sustainable, creating momentum for the world's second-largest economy to continue strong recovery during the period. next time.
According to Chinese media, major e-commerce platforms in the country are stepping up their preparations for the world's largest shopping spree to take place on November 11. Alibaba, JD.com are planning attractive discount events to attract buyers during the holiday season. Analysts expect revenue from Singles Day this year, even surpassing 61 billion USD of last year. Recently, Alibaba also spent $ 3.6 billion to acquire Sun Art hypermarket chain to increase competitiveness in the retail market.
Not only Chinese businesses, but also foreign businesses are trying to seize opportunities from this market. Especially high-end brands, which are struggling in other markets due to the impact of the COVID-19 pandemic.
In the context of the COVID-19 pandemic that has caused sales in other markets to decline, leading luxury fashion brands have all said they will focus on the Chinese market this year. New stores have been opened, live events organized for consumers and e-commerce has been accelerated.
Luxury shopping in China has increased again since March, when the pandemic was gradually curbed. Most brands reported double-digit sales growth, with Louis Vuitton and Prada reaching over 60%.
Last year, Chinese consumers accounted for 37% of the $ 300 billion global luxury market, according to McKinsey. This year, this rate can increase sharply, up to over 50%, thereby partially compensating for the sharp decline of luxury brands in many global markets.
Thus, just as after the 2008 financial crisis, after doing quite well in the field of public investment spending, China is also trying to take advantage of the still huge room in the domestic market to promote the recovery of the economy. A market of 1.4 billion people is clearly too great an advantage for the Chinese economy to outperform other countries in this race, becoming the only major economy with positive growth this year.