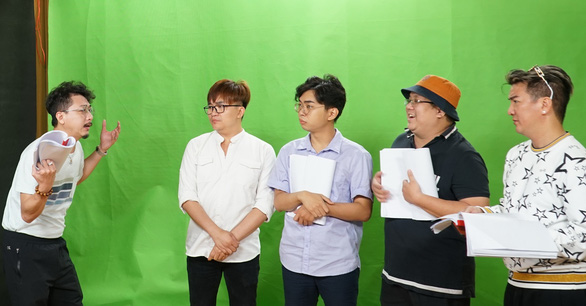 The artists on the floor practice program Apple Xuan Tan Suu – Follow the track of Ngoc Hoang – Photo: THVL
Behind-the-scenes images show that Apple Army continues to have the appearance of famous familiar faces in the program Meet at the end of the year: Chi Trung, Xuan Bac, Tu Long, Van Dung …
Commenting on the program, many experts as well as the audience are looking forward to laughter for the end of the year after a tiring year due to the upheaval caused by COVID-19 and storms and floods.
As a spectator of the Apple Quan program for a long time, Assoc.Prof. Dr. Nguyen Thi Minh Thai said: "The return of the Apple Army is a good sign. For many years, Vietnamese people have been looking forward to the program. Apple troops to watch on New Year's Eve.
The program has a social meaning is to touch the issues that have caused frustration in the public opinion in the past year, expressed by satirical laughter. Especially this year, when the COVID-19 epidemic is about to turn the world upside down, the end of the year is when people need laughter to move into the new year.
I hope that the joy that the program brings will help everyone to have a more favorable new year and say goodbye to the shortcomings of the old year ".
Ngo Duong (Long Bien, Hanoi) also expressed his enthusiasm: "This year, the socio-economic situation has changed dramatically due to COVID-19, so people also need a happy and exciting Tet. to enter the new year.
Hopefully the show Apple Army in the military return this time will be sharper, more thorny, but also have gentle, relaxing laughter for the audience ".
Meanwhile, Vinh Long Television Station (THVL) also set up a complete play about Apple Army. Apples Xuan Tan Suu 2021 on THVL1 with the theme "Follow the track of Ngoc Hoang", written by Nguyen Thu Phuong, Ngoc Hung as the stage director.
The program will summarize the hot events, prominent in all fields in the past year, especially in the health sector heavily influenced by COVID-19, the central region affected by natural disasters or a year into public of Vietnamese rap.
According to director Ngoc Hung, this is the first time Nguyen Thu Phuong wrote the script of Apple Army, but promises to bring the audience laughter behind the profound messages.
The spirit of Apple Xuan 2021 spreads optimism, overcoming pandemics and natural disasters to have a better life, besides the humorous part, there is also a deposition and deepness.
The program brings together artists: Minh Nhi, Dam Vinh Hung, Cam Ly, Dai Nghia, Kha Nhu, Nam Thu, Puka, Minh Du, Huu Tin, Le Duong Bao Lam, Hua Minh Dat, Phuong Lan, runner-up – Rapper Lona Kieu Loan …
Apples Xuan Tan Suu – Follow the track of Ngoc Hoang Phat at 20:00 on February 11 (ie 30 Tet) above channel THVL1.
According to sources from HTV, like in 2020, this year, HTV will not produce Apples. To compensate for that absence, the station is preparing to produce the show Meet is Tet, bringing together many favorite artists.
Radio and Television Station Bac Lieu, Ca Mau is planning to produce Apple Army in 2021, but details have not been revealed.
H. LE