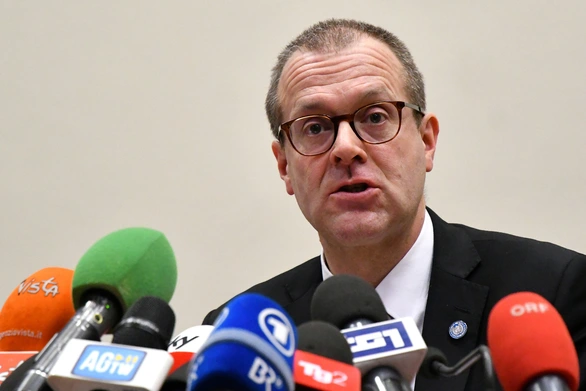 "The situation will be more difficult. In October and November, we will see more deaths", AFP news agency on September 14 quoted the director of the World Health Organization (WHO) for Europe region Hans Kluge commented.
According to Mr. Kluge, Europe is currently witnessing a sharp increase in the number of COVID-19 cases and a steady increase in deaths. But this infection wave will lead to an increase in the number of deaths per day in the coming time.
Mr. Kluge's statement made while 55 WHO member states of Europe are holding an online meeting on September 14 and 15 to discuss how to respond to the COVID-19 epidemic and agree. on an overall five-year strategy against this pandemic.
Mr. Kluge warned the subjective opinions that vaccines could end this global pandemic.
"I hear this all the time: vaccines will end the pandemic. Of course not! We don't even know if a vaccine will help all groups of people. We are now seeing some indications that a vaccine works for only one group of people, not everyone, "he said.
According to the WHO leader, the pandemic ends at the moment when people learn to live with it and it is up to the people themselves.
The number of COVID-19 cases in Europe has increased in recent weeks, especially in Spain and France. On September 11, 55 member countries of WHO Europe region recorded more than 51,000 new infections, higher than the highest level reported in April 2020. Daily deaths remained at 400-500, similar to levels since the beginning of June 2020.
In other developments, in Asia, Japan, Korea, Taiwan, and Australia are stepping up flu vaccination to reduce complications related to COVID-19.
According to Reuters, Japan is preparing 31.2 million doses of flu vaccine, the highest level since 2015. Similarly, Korea has prepared more than 30 million doses of vaccine for winter this year, up 20% compared to that of the previous year.
Taiwan is expected to provide an additional 6 million doses this year. Meanwhile, China forecasts that the demand for influenza vaccination will increase by 50% in the coming time. In Australia, during the June to September 2020 flu season, the government also purchased 16.5 million doses of the vaccine, up from 13.2 million doses last year.
WHO has recently urged countries to increase flu vaccination this year due to fears that people at high risk of COVID-19, such as the elderly, and those with respiratory diseases, also face great risks from the flu.