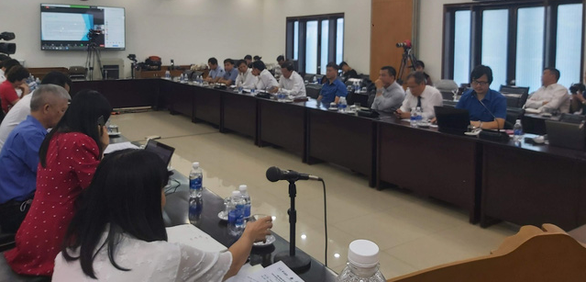 Online conference organized by the Ministry of Industry and Trade to increase connectivity between the transport of agricultural products by railway and by air – Photo: N.AN
Information is given at Online conference connecting railway agricultural enterprises, aviation by the Import-Export Department (Ministry of Industry and Trade) held on September 8.
Specializing in exporting agricultural and fruit products to the United States, Australia …, Mr. Nguyen Dinh Tung – General Director of Vina T&T Company – said: Air transportation has the advantage of reducing product quality risks, especially products need to be preserved. However, the difficulty is that the freight charge is quite high. For example, flights to the United States and Canada only have 4 airlines, so if the airline raises the price, it still has to accept.
As for transportation by rail, this business also has no choice because it has to go through many stages of transshipment, affecting product quality.
"Goods must be transported to Song Than station to transport to Dong Dang station to China, while by road, container trucks will arrive at the place to transport through China immediately. This method helps transport goods to ensure the best way, so the road can be transported to China. Iron can only transport frozen goods, while sensitive fruit products that suffer heat shock will suffer damage, "said Tung.
According to Mr. Nguyen Chinh Nam, Head of Planning and Business Department (Vietnam Railway Corporation), in the first 6 months of 2020, exports through Lao Cai border gate, Dong Dang, have a volume of 864,000 tons, but the volume of exports is equal to modest railway at just over 17,000 tons, accounting for 1.8%.
Meanwhile, railway transport also has certain advantages such as Large quantities, including self-propelled, frozen goods. The international intermodal train route from Vietnam to many countries now provides a full-service import-export service through official channels such as border clearance without having to worry about overweight and clearance.
Import and export businesses propose active support is needed to minimize the effects of the COVID-19 outbreak. Because there were many options in the past, but the current flight was limited, there was a competition for seats, double the price, causing the rates to be quite high, so there should be policies to support a number of strong industries such as agricultural products; The railway industry increases connectivity to reduce transshipment and further reduce costs.
Mr. Tran Thanh Hai – Deputy Director of the Import and Export Department is expected to remove bottlenecks in the connection of freight transport with railway and aviation. Especially in the current epidemic situation, strengthening links between businesses is necessary to increase connectivity to reduce costs in the future.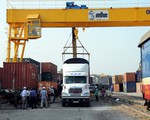 Transporting carriages by road via Trang Bom station