Food prices are rising during the Covid-19 pandemic, affecting food security issues.
The latest report from the Food and Agriculture Organization (FAO) of the United Nations said that global food prices rose for the third consecutive month in August and hit their highest level since February 2020.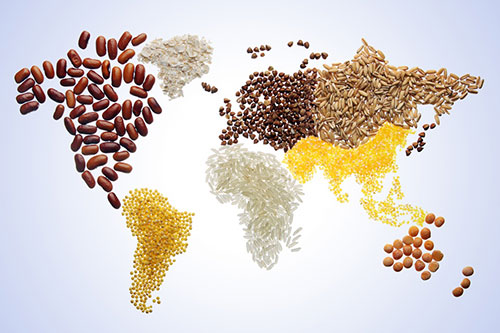 Illustration. Source: Internet
The FAO said rising food prices are due to more stable demand and a weaker dollar. When commodity prices, including raw materials for food, are usually denominated in USD and when the weaker USD supports the price.
Yesterday, the Bureau of Statistics of China said that the country's food prices increased by 11.2% from a year ago in August due to the high price of pork due to the outbreak of African swine fever that caused China's pigs. impaired. In August 2020, pork prices increased by 52.6% year-on-year.
Hot weather and heavy rain also affect prices. According to FAO's price index, vegetable prices increased by 6.4% compared to July 2020. Egg prices rose 11.3% due to seasonal demand exceeding low inventories.
Experts have said that, even though there was no pressing food shortage, farms were still disturbed by the Covid-19 pandemic disrupting the supply chain.
"When the Covid-19 crisis broke out, disruptions in the domestic food supply chain, other shocks affecting food production, loss of income and remittances were creating strong stress and risk. food security risks in many countries ", the World Bank (WB) said today 31/8.
According to the World Bank, although global food prices are generally stable, many countries are experiencing varying levels of food price inflation due to measures taken to prevent the spread of Covid-19.
In July, a survey by the Olam Agri-Food and Agriculture Group operating in 60 countries found that more than half of the 2,400 smallholder farmers planted cocoa, coffee, sesame, cotton and other crops. Others in Africa and Indonesia are facing shortages of food and basic nutrition due to limited movement, rising food prices and insufficient inventory.
Of the surveyed farmers, 70% of them reported that their ability to pay food was affected because they had a lower than normal income in the previous 4 months.
The World Bank has warned of an immediate supply disruption if farmers continue to have limited access to food.
"Food manufacturers also face great losses in perishable and nutritionally depleted foods as buyers are increasingly limited and consumption patterns change. Although food insecurity is largely not caused by food shortages, disruptions in the supply of agricultural inputs such as fertilizers, seeds or labor shortages could be reduced. influence in the next season ", according to WB.
"If farmers are experiencing severe famine, they can also prioritize buying food today rather than sowing seeds for tomorrow, increasing the risk of food shortages later on," said the World Bank.